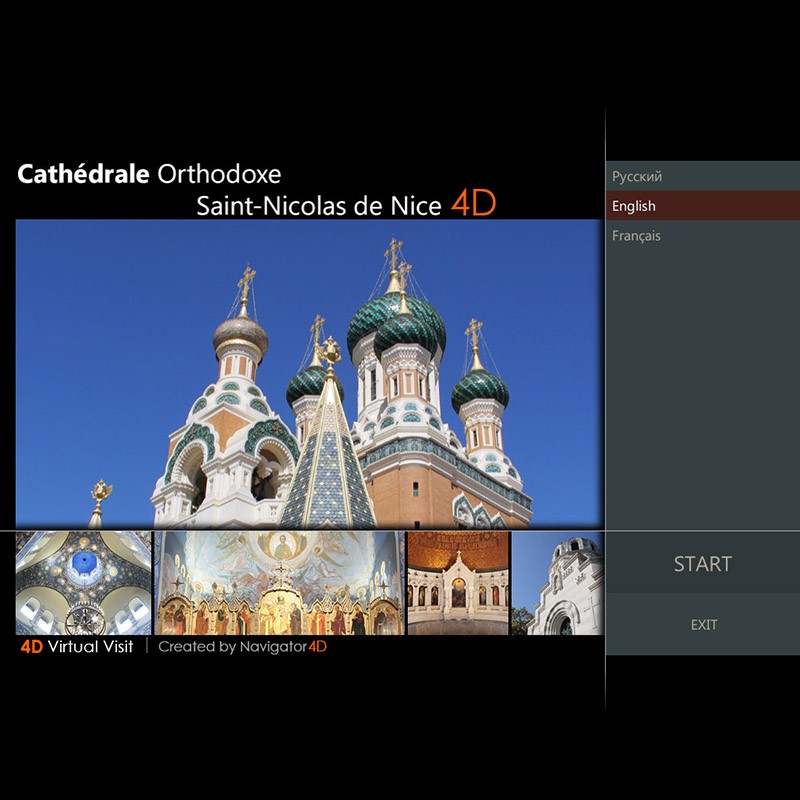  
Cathedral St. Nicolas Orthodox Russe de Nice 4D [Available in December 2020]
This product will be available in December 2020. You can make preliminary payment now (with 30 % discount) and immediately after start of sales You will receive virtual 4D museum download link and activation key to Your email.
This project is delivering this unique architectural object to You in new innovation virtual 4D format with detailed explanations of the history of Cathedrale and each object and icon in several languages.
Construction of the Cathedral of St. Nicholas, which was consecrated in 1912, began in 1903. This beautiful and important building is unique in that it is the first Russian church outside of Russia to have received the title of Cathedral before the revolution of 1917. The construction of this Cathedral received the financial and moral support of His Imperial Majesty Nicolas II, whose mother, the Dowager Empress Maria Fedorovna, was especially eager to have a church built in memory of her first fiance, the young tsarevich Nicolas Alexandrovich, who died in Nice in 1865, in the villa which had stood in the park where the cathedral stands today.

Languages:
English
Français
Русский
Minimal system requirements:
Operation systems: Windows XP, Windows 7 / MAC OS X 10.9CPU: Core 2 Duo or Athlon X2 at 2.4 GHz
Memory: 4 GB RAM
Hard Drive: 6 GB of free space
Graphics: DirectX 9 (SM 3.0) compatible 1 GB RAM
Sound: DirectX 9 compatible sound card