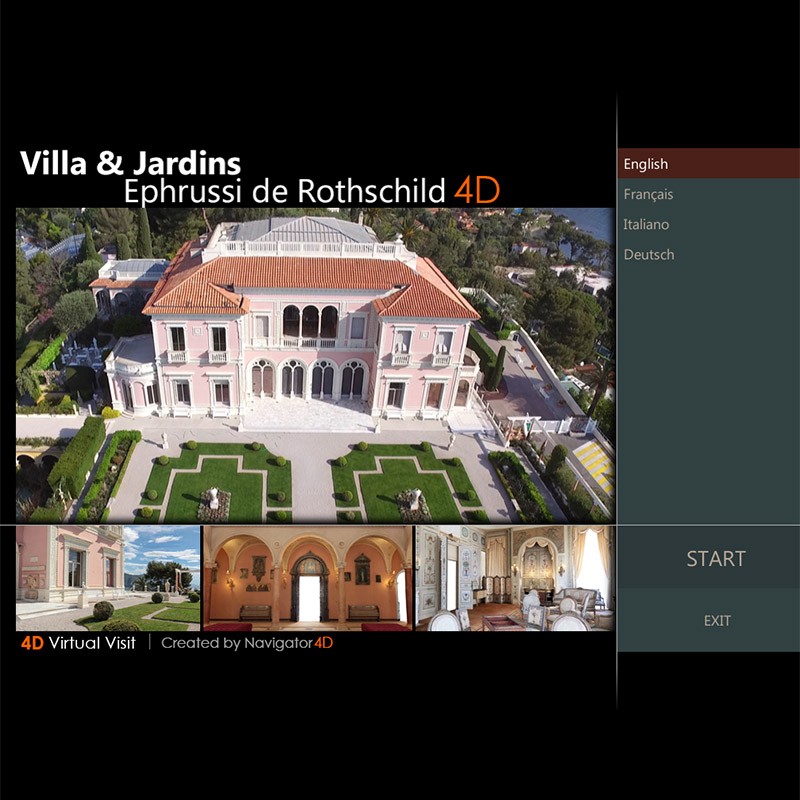  
Villa Ephrussi de Rothschild 4D [available in Summer 2022]
This product will be available in Summer 2022. You can make preliminary payment now (with 30 % discount) and after start of sales, You will receive virtual museum download link and activation key to Your email.

Villa Ephrussi de Rothschild, also called villa Île-de-France, is a French seaside villa located at Saint-Jean-Cap-Ferrat on the French Riviera. The villa was designed by the French architect Aaron Messiah, and constructed between 1905 and 1912 by Baroness Béatrice de Rothschild (1864–1934). A member of the Rothschild banking family and the wife of the banker Baron Maurice de Ephrussi, Béatrice de Rothschild built her rose-colored villa on a promontory on the isthmus of Cap Ferrat overlooking the Mediterranean Sea. The Baroness filled the mansion with antique furniture, Old Master paintings, sculptures, objets d'art, and assembled an extensive collection of rare porcelain. The gardens are classified by the French Ministry of Culture as one of the Notable Gardens of France.
This project is delivering this unique cultural, architectural and human heritage object to You in new innovation virtual 4D format with detailed explanations of the Villa's building, garden, rooms and each Villa's halls and objects of its collection in several languages.
Languages:
English
Français
Deutsch
Italiano
Русский
Minimal system requirements:
Operation systems: Windows XP, Windows 7 / MAC OS X 10.9
CPU: Core 2 Duo or Athlon X2 at 2.4 GHz
Memory: 4 GB RAM
Hard Drive: 10 GB of free space
Graphics: DirectX 9 (SM 3.0) compatible 1 GB RAM
Sound: DirectX 9 compatible sound card