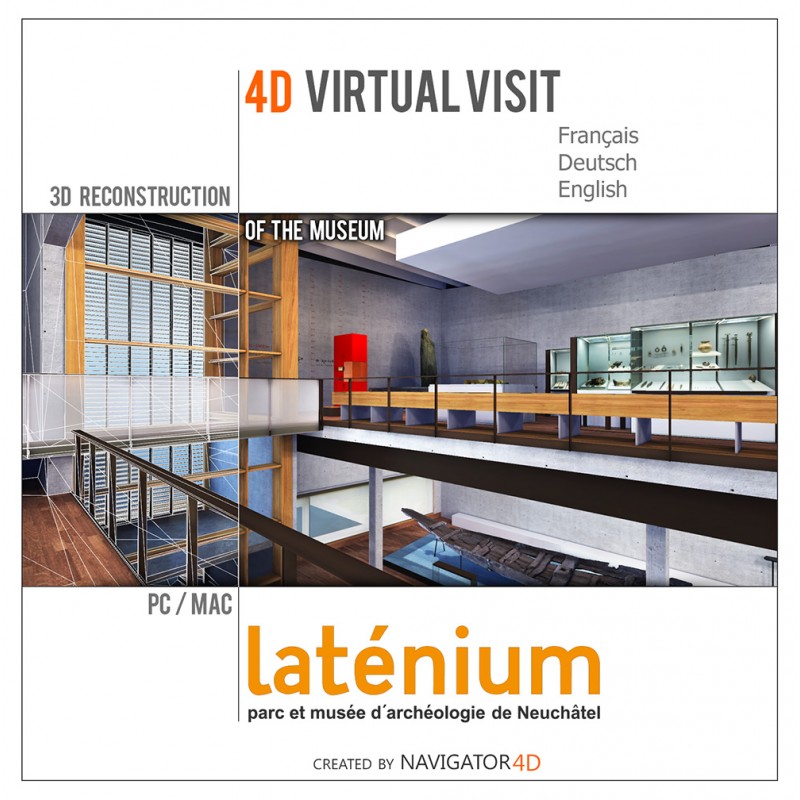  
Latenium 4D Virtual Visit for Windows/MAC
Installation instructions: DOWNLOAD
Navigator4D offers a virtual visit of the Laténium, Archaeology Park and Museum at Hauterive-Neuchâtel (Switzerland). You can view the archaeological objects that were created in the Park (originals and reconstructions) and explore in 3D mode various exhibition halls. The finds tell the story of our ancestors, from the Middle Ages to the Neanderthal period : an amazing journey through 50'000 years! Many of the museum pieces are scanned and shown as 3D objects, giving the possibility to discover even the smallest of details. The 4D-application available in several languages. Also, You can use virtual guide for exploring museum halls and collection in interactive animated.
For PC and MAC computers. This product does not work on the M1 64-bit version of MAC OS.
Installation instructions: Download
The Museum. Yesterday… between the Mediterranean and the North Sea. Travelling back in time through the archaeology of Neuchâtel, the exhibition is divided into eight parts, situated on two levels, and takes visitors on a fascinating journey from recent to ancient times. It is based on a unique collection of artefacts found during land and underwater excavations in the canton of Neuchâtel from the 19th century to the present day.
The Park. Lying on the south face of the Jura mountains, the Laténium Park tells the story of the lake shores and the people who lived there between the end of the Ice Age and our own times. The reconstruction of the successive landscapes in this site, from tundra to agricultural land, alternates with a number of full size reconstructions and authentic archaeological objects.
Languages:
Minimal system requirements:
Operation systems:   Windows XP/Windows 7/ MAC OS X 10.9
CPU:   Core 2 Duo or Athlon X2 at 2.4 GHz
Memory:   2 GB RAM
Hard Drive:   4 GB of free space
Graphics:   DirectX 9 (SM 3.0) compatible 512 MB RAM
Sound:   DirectX 9 compatible sound card
IMPORTANT NOTE: This product does not work on the M1 64-bit version of MAC OS.
Developer and Publisher Navigator4D
www.navigator4d.com